About Our Shutters
Enhance the inner beauty of your home, with their beautiful built-in look, shutters enhance the architectural quality of windows, adding value to your home. A smart choice for light control and energy efficiency, they also help with noise reduction. Choose the material that best suits your taste, needs and budget.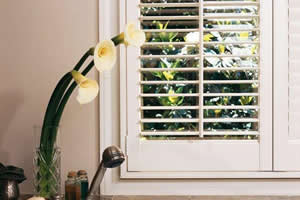 Poly Shutters
Up to 70 of a basswood tree is discarded when making a basswood shutter. When a basswood tree is cut from a forest, it takes 100 years for another basswood tree to grow in its place. Poly-vinyl shutters are made from 100% synthetic man made materials. Poly shutters are made of a combination of a high grade polymer and tree pulp sap made from fast-growth farmed trees. This timber is grown to make our poly shutters, and an amazing 80-90 of the tree is used to create our shutters. Better yet, the growth cycle for these trees is only 8 years. The trees used for our poly shutters are ground to pulp, then artificial "sap" is added to create a flat, uniform board - with no knots to extract, no cut-out waste.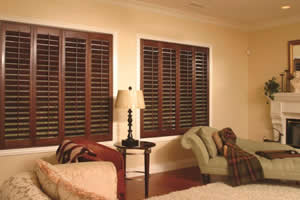 Wood Shutters
Make a statement and add an investment to your home with our wood shutters. A stained shutter is a amazing way to enhance your windows. Whether you are looking to coordinate the stained shutter with your trim, hardwood flooring, cabinetry or furnishings or would prefer a crisp, painted shutter, either can be an asset to any room. Shutters can be customized to fit most any window, arch or sliding glass door, and come with coordinating hardware. Accent your homes natural architecture with shutters and make a lasting impression.
* Products may vary slightly from description above. See product specification.